THE PLAYERS Championship Announces $1 Million Gift to the Flagler Healthcare Foundation in Support of Youth Behavioral Health Program
Category: News
Posted On:
Written By:

Gina Mangus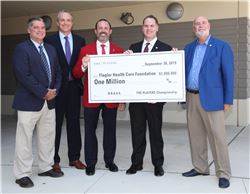 ST. JOHNS, Fla., September 30, 2019 -- In response to the growing behavioral health needs affecting youth in St. Johns County, THE PLAYERS Championship has committed $1 million to the Flagler Healthcare Foundation to help bolster the work being led by UF Health St. Johnsin St. Johns County public schools.
The gift announcement was made today, the final day of National Suicide Prevention Awareness Month, among many area and state leaders including State of Florida Governor Ron DeSantis' wife Casey DeSantis, UF Health St. JohnsCEO Jason Barrett, St. Johns County School Board Chair, Kelly Barrera, St. Johns County School District Superintendent Tim Forson and Jared Rice, Executive Director for THE PLAYERS Championship.
Statewide data reveals that St. Johns County is a state leader in overall deaths by suicide for youth, ages 18-24. As equally alarming is the lack of care and support available to them. In Florida, six out of 10 youth (66.8%) who are depressed and are most at-risk for depression do not receive any mental health treatment.
THE PLAYERS' gift is helping leaders improve access and support for St. Johns County students with the development of a new program called B.R.A.V.E. – Be Resilient and Voice Emotions. Launched by UF Health St. JohnsCare Connect in partnership with the St. Johns County School District, B.R.A.V.E. was established to encourage area youth to get in touch with their behavioral health early on, be open to receiving help, address social barriers, and, most importantly, access behavioral health care services at the right time, at the right place.
"There is no easy fix for addressing the complex issues around behavioral health that are facing our youth today. It is only through sustained resolve, investment and resources from every stakeholder in our community that we will eliminate stigma and increase much-needed access to care," stated Jason Barrett, President and CEO of Flagler Health+. "This generous gift from THE PLAYERS truly allowed us to bring this critical program to life in time for the beginning of the school year. With THE PLAYERS support, the commitment of our school district and collaboration with our community partners, we will ensure no child goes without getting the care they need."
Through B.R.A.V.E., UF Health St. JohnsCare Connect serves as the hub for student behavioral health referrals for all 39 schools in the St. Johns County School District. Care Connect staff identify unmet social needs for the entire family, eligible resources and the most appropriate behavioral health provider for the student. This includes services provided by Epic Behavioral Healthcare, Children's Home Society and St. Augustine Youth Services. The program includes care coordination and navigation services, access to virtual mental health counseling visits and a 24 -hour crisis text line. More than (35) students have already been referred to Care Connect via BRAVE this school year.
"Our ability to provide this $1 million gift is a direct result of the tremendous support we receive for THE PLAYERS Championship," said Jared Rice, Executive Director, THE PLAYERS Championship. "Based on the contributions of our volunteers, Proud Partners, sponsors, fans, media, and corporate, civic, and legislative leaders, area nonprofit organizations will benefit from more than $9.25 million, generated from our 2019 tournament. It is our honor to launch this year's charitable outreach campaign with support for UF Health St. Johnsand St. Johns County Public Schools in their efforts to improve access and outcomes of children, grappling with mental health needs. Their partnership is truly making a difference in the lives of families and communities."
"I am so grateful to live in a community where businesses and organizations step up when our students need them. THE PLAYERS and UF Health St. Johnsare steadfast in their support to help our students and this gift will further help reduce the stigma and increase services in mental health," said St. Johns County School District Superintendent Tim Forson.
###
About Flagler Health+
UF Health St. Johns is a total-care enterprise aimed at advancing the physical, social and economic health of Northeast Florida communities. From working with area schools to address youth behavioral health to bringing a new concept in health villages throughout the region, UF Health St. Johns is building healthier communities. UF Health St. Johns is an extension of UF Health Flagler Hospital, which has a 130-year legacy of caring for the community. Learn more at flaglerhealth.org.
About THE PLAYERS Championship
THE PLAYERS Championship annually combines the best field in golf with the world-class venue that is THE PLAYERS Stadium Course at TPC Sawgrass. Morgan Stanley, Grant Thornton LLP and Optum® are the exclusive Proud Partners of THE PLAYERS. Proceeds from THE PLAYERS benefit Northeast Florida charities and have totaled more than $100 million since the event moved to Ponte Vedra Beach in 1974, including a record $9.25 million generated in 2019. For more on THE PLAYERS, visit THEPLAYERS.com. For more on the surrounding areas, visit floridashistoriccoast.com or visitjacksonville.com.
About Morgan Stanley
Morgan Stanley (NYSE: MS) is a leading global financial services firm providing investment
banking, securities, wealth management and investment management services. With offices in
more than 42 countries, the Firm's employees serve clients worldwide including corporations,
governments, institutions and individuals. For more information about Morgan Stanley, please
visit http://www.morganstanley.com.
About Grant Thornton LLP
Founded in Chicago in 1924, Grant Thornton LLP (Grant Thornton) is the U.S. member firm of Grant Thornton International Ltd, one of the world's leading organizations of independent audit, tax and advisory firms. Grant Thornton, which has revenues in excess of $1.8 billion and operates 58 offices, works with a broad range of dynamic publicly and privately held companies, government agencies, financial institutions, and civic and religious organizations.
"Grant Thornton" refers to Grant Thornton LLP, the U.S. member firm of Grant Thornton International Ltd (GTIL). GTIL and the member firms are not a worldwide partnership. Services are delivered by the member firms. GTIL and its member firms are not agents of, and do not obligate, one another and are not liable for one another's acts or omissions. Please see grantthornton.com for further details.
About Optum
Optum is a leading information and technology-enabled health services business dedicated to helping make the health system work better for everyone. With more than 180,000 people worldwide, Optum delivers intelligent, integrated solutions that help to modernize the health system and improve overall population health. Optum is part of UnitedHealth Group (NYSE:UNH). For more information, visit optum.com